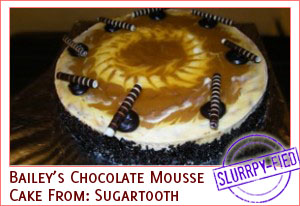 A new 'slurp-calorie dilemma-and forget and eat' joint in town; Sugartooth is an absolute try-out when it comes to their bailey's chocolate mousse cake. A heady concoction, we must agree, this gets you totally addicted.  Started in 2009, by a young initiative, Mr. Sachin Shetty, who also happens to own another popular food joint in a posh suburb of Mumbai, this place has one of the finest cakes that do melt in your mouth. Apart from Sugartooth's bailey's chocolate mousse cake, one more must try is the chocolate walnut pie! A slice of heaven!
Chef. Rakesh Magdum shares with the Slurrpy team, his secrets to that perfect bailey's chocolate mousse cake that kept us eating till the last atom of its existing sweetness!
For the Brownie Base:
Ingredients:
Flour – 50 gm
Dark compound- 340 gm
Butter – 250 gm
Eggs- 8
Castor Sugar- 180 gm
Vanilla- 10 ml
Procedure
Melt butter and dark compound together in a bowl. In a separate bowl beat eggs and castor sugar and add vanilla.
To the mixture of butter and castor sugar fold in the mixture of butter and dark compound. Mix it well and fold in the flour. Mix well and bake at 160 for 18 minutes.
*Note: We don't want the brownie to be very thick so be careful to pour ½ inch thick of batter only.
For the Chocolate Mousse
Ingredients:
Egg yolks: 6
Milk – 150 ml
Castor Sugar- 100 gm
Dark compound- 200 gm
White compound- 75 gm
Whipped cream- 300ml
Baileys- 50 ml
Procedure
In a double boiler, heat milk, egg yolk and sugar. Keep stirring under low flame. At a point check with your fingers if the sugar crystals have dissolved. When it reaches a custard consistency, separate them in two bowls and add the white and dark compound separately. Let it cool.
**Note: Don't add the whipped cream before it cools or it will curdle.
Putting the cake together:
In a ring, add the brownie base. Line it with white mousse and fill in with dark mousse.
The Bailey part
Mix cold-gel and baileys together and pour on top. Keep 2 ½ hour minimum in the freezer.
Decorate with black rice!
Find it here: Shop No.4, Rock Garden,
Off. New Link Road, Andheri West,
Near Sundervan, Mumbai-400053
Tel:  +91-22-26355577