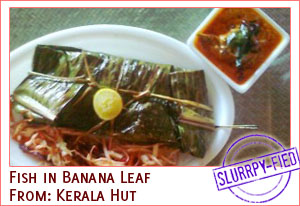 A newborn niche joint that started only 4 months ago in the heart of a posh Mumbai suburb, Kerala Hut has already claimed it's share of fans; thanks to its mouth watering authentic Kerala cuisine that takes your taste buds straight to God's own land. Ask for their special  Kerala Dham Matka Biryani, Idiappam, and Putt at anytime between 11am to 3pm and 7pm to midnight. We assure you that you'll just keep coming for more.
Ingredients
Surmai or Pomphret : 1, big
Fresh coconut milk : 1/2 tin
Cashew paste : of about 4-5 pieces
Turmeric powder : 1/4 tea spoon
Chilli powder : 1/2 tea spoon
Curry Leaves (Kadi Patta) : 4-5 leaves
Green chillies: 2
Ginger: 1/2 inch
Salt : According to taste
Oil  : 2 spoons
Fresh, clean banana leaf : 1 big
Procedure:
Pour the coconut milk in a bowl and mix it with turmeric powder, chilli powder and cashew paste.
In a pan heat oil. Fry ginger, green chillies, curry leaves, salt and fry this until brown (medium flame and mix well).
In another pan, fry the fish till it gets brown and keep it separately.
Take a banana leaf and wash it with clean water. Rinse it properly and put the mixed paste on it and spread it till it covers the whole leaf.
Place the fish on the banana leaf.
Wrap the leaf and close it using a toothpick.
Then shallow fry this in a pan with closed lid in a very low flame till the leaf turns a light brown. Turn it to the other side and do the same.
When the whole leaf is cooked, remove it from the pan and serve it on a plate.
Enjoy!