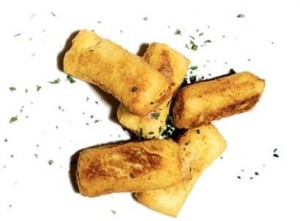 You ain't nothing without a bowl of piping hot cheese fritters, while its pouring outside your window. In this fritter freakout week, let's begin with this mouth watering, gooey, cheesy, pull-y, melt in your mouth cheese fritters that'll make even the most boring movies seem great!
Ingredients:
Processed Cheese: Cut into strips
Gram flour (besan): 1 cup
Chilli powder: 1/2 teaspoon
Salt: 1/2 teaspoon
Pepper: 1 teaspoon
Oil: 2tbsp
Procedure:
Mix gram flour, chilli powder, slat and pepper. Add enough water to make a batter. It shouldn't be too runny or too thick.  Dip the cheese strips in the batter and deep fry until golden brown. Garnish with chopped parsley.
Enjoy!