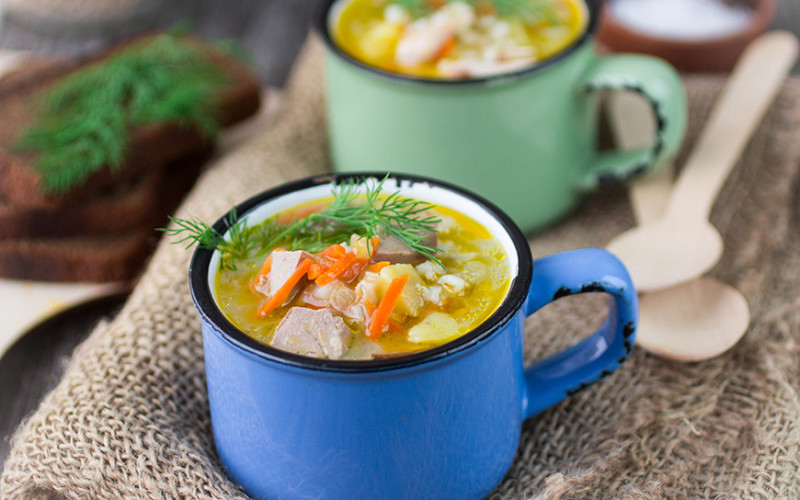 Tracing back its origins in Scotland, Cock-a-Leekie is a soup prepared with leek and chicken stock. The Cock-a-Leekie soup recipe is to bring in the warmth during chilly winters and is usually a famous starter in Scotland. It was baptised with the name in the 16th century legend when a fowl would be boiled with vegetables and leeks to provide a filling broth.
If you look to learn how to make Cock-a-Leekie soup, prunes are a must-add. The reason for the addition of prunes was that they added to the nutritional value of the broth. However, lately chefs prefer to keep them optional in order to cater to the varied tastes of people. A common variant now available is when chefs generally add the prunes while cooking, but remove it before serving the soup.
Cock-a-Leekie Soup
Ingredients:
4 pounds chicken thighs, bone in, skin removed
10 cups water
1 onion, chopped
1/3 cup barley
1 (10.5 ounce) can condensed chicken broth
7 leeks, sliced
2 stalks celery, thickly sliced
1 sprig fresh thyme, chopped
1 tablespoon chopped fresh parsley
1 teaspoon salt
1/2 teaspoon ground black pepper
Method:
Keep a large pot over heat and combine in it the chicken, water, onion and barley. Bring it to boil and simmer for one hour on low heat. Remove the chicken, discard the bones and skin, chop the meat into bite size pieces and return to the pot.
Add the chicken broth, leeks, celery, thyme, parsley, salt and black pepper. Simmer for around 30 minutes more till all the vegetables become tender.
Serve hot.