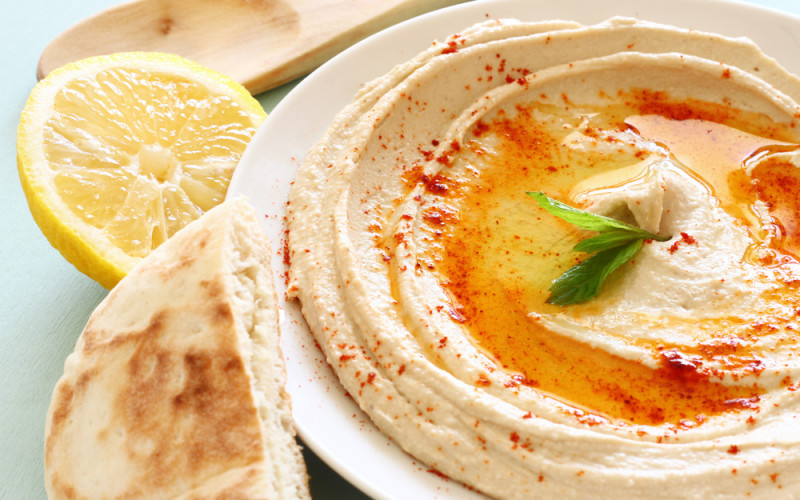 They say opposites attract. That is certainly the case in this unusual dish where the saltiness of the hummus combines perfectly with sweet tasting brinjal. This dish is referred to as baba ghanoush or mutabbal in the Arabic world.
First, for the uninitiated, let's understand what hummus is all about and why it is so great. Hummus (Arabic for chickpeas) is a Middle Eastern dip that is made from chickpeas, tahini, olive oil, lemon juice, salt and garlic. These simple ingredients combine to create an awesome flavor that will have you coming back for more and more!
In Levantine style cooking, hummus is served as part of the "meze" along with other delights like  tabbouleh and fattoush. Hummus, a staple diet of Ancient Egyptians, has numerous health benefits. It is high in iron, vitamin C and vitamin B6 as well as being a great source of protein and dietary fiber.
If you like a hummus that gives a good acidic kick, then add more lemon juice to the mixture. Or perhaps, you may not find tahini (sesame paste) agreeable to your palate. You can reduce it or do away with it altogether. The joy of Middle Eastern cooking is that one need not be specific about the amounts.
Be creative and get cooking!
Roasted Eggplant Hummus
Ingredients:
 2 cups chickpeas, drained and rinsed (soaked if using dried chickpeas)
 1 small eggplant
 3 tablespoons of tahini
 1 ½ tablespoons fresh lemon juice
 ½ cup olive oil
 3/4 teaspoon cumin
 clove of garlic, crushed
 1/2 teaspoon salt
Sprig of parsley, finely chopped
Method:
Wash the eggplant and let it dry. Remove the stem and cut the eggplant in round pieces about 1/8" thick (about 1 cup). Rub olive oil and lightly salt each eggplant round and place in oven under broiler for three minutes each side. Take care that the eggplant does not burn.
In a blender or food processor, blend the chickpeas. Add eggplant, olive oil, tahini, lemon juice, garlic,
cumin, parsley, and salt until the ingredients form a paste-like consistency. Pour the mixture into a large
bowl. Garnish with any remaining parsley, cover and refrigerate for 30 minutes.
You can enjoy this smoky delight with some lovely pita bread.
Fun Fact: In May 2010, 300 cooks from a tiny village just outside Beirut broke the record for the world's largest dish of hummus. The hummus dish weighed 10,452 kg and contained 8 tons of boiled chickpeas, 2 tons of tahini, 2 tons of lemon juice and 70 kg of olive oil!