The eight layered beetroot-cheese bake was an amazing experience to make and better still to feast on. This is an original recipe of mine, so I should warn you my friends the end result is addictive "You just can't stop with one serving!" Those willing to take the risk of over eating can go ahead with the recipe. I used cheeselings for the crust as I ran out of bread crumbs (Last minute stock check… this is what happens 😉 Step out of your guilt coat and indulge in this layer wise crunchy (onions), tangy (beetroot in vinegar), spicy (soya mince), creamy (potato mash) and cheesy pie!
Ingredients for the bake:
Beetroot 2-3 (grated)
Potatoes 4 boiled and 3 (small) par boiled
Onions 3-4 sliced in rings
Grated Mozzarella cheese ½ cup
Cheeselings  (ground) 1 cup
Oregano ½  tsp
Chilli flakes ½ tsp
Butter to grease
3-4 tbsp Fresh cream ( you can use the ready-made packet of whipped cream)
A few peppercorns (for both the beetroot and mashed potato)
3-4 pods of garlic
Mustard sauce 1 tsp
1 tbsp White Vinegar
Salt to taste
Ingredients for the soya mince:
Soya mince – 2 cups
Onions 2
Ginger-garlic paste 2 tsp
Soya sauce 2 tsp
Red chilli sauce 1 tsp
Vegetable stock powder
Tomatoes 1
Salt to taste
Little pepper powder for spice
Oil
Method for the soya mince fry:
Boil water in a vessel and when it reaches boiling point put in the soya mince. Bring to simmer for 2 minutes. When done remove from flame and keep aside.
Heat oil in a pan and add finely chopped onions, sauté till they turn pinkish then add the ginger-garlic paste. Stir fry well.
Add chopped tomatoes, vegetable stock powder, soya sauce, red chilli sauce, pepper powder and salt (if using veg. stock powder no need to add salt). Fry well for few minutes and add the soya mince.
Stir well till it turns to a dry consistency.
Method for the bake:
Slice the par boiled potatoes (round) and keep aside.
Grate beetroot and keep aside in a bowl.
In a mortar pestle crush pepper corns and garlic and in a bowl mix the crushed garlic and peppercorns with a little salt, vinegar and mustard sauce. Add this to the grated beetroot and mix well.
In another bowl peel and mash the boiled potatoes well, ensure there are no pieces. Then add the whipped/fresh cream (or you can use milk very little), oregano, red chilli flakes, salt and crushed pepper corns. Mix well and set aside.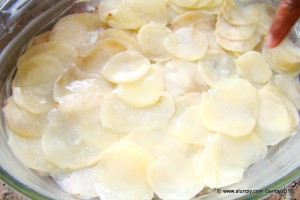 Grease a baking dish with butter/margarine, and then arrange the potato slices for the bottom layer. Over this arrange the sliced onions and top it with the beetroot mix.
Then layer the soya mince over the beetroot. Over the soya mince put a layer of sliced onion rings and then top this with the mashed potato mix.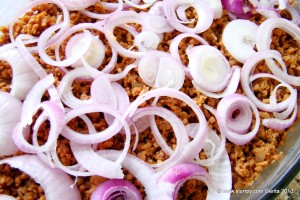 Grate cheese over the potato layer. Ensure that the cheese covers the top layer well.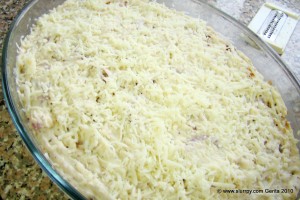 Now for the final touch add the coarsely ground cheese lings.
Preheat the micro oven to 250 degree C and bake for 10-15 mins till the top layer turns brownish.
Enjoy it with crispy garlic-bread!
Preparation Time: 45-50 minutes
Serves: 4-6