yummy delicious lasagne sheets served with layers of sauces and topped with cheese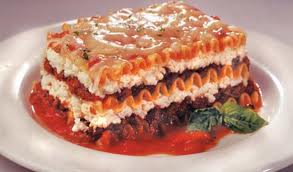 Ingredients:
(For red Sauce)
Onion, chopped :       2
Tomato  :       4
Salt    :       According to taste
Chilli flakes  :       ¼ tsp
Oregano :       ½ tsp
Garlic cloves  :       6
Tomato ketchup :       6 tsp
Sugar   :       1 tsp
Carom seeds    :       1 tsp
Basil leaves (dry)     :       ½ tsp
Oil     :       2 tbsp
(For white sauce)
Plain flour    :       2 tbsp
Milk    :       1 cup
Salt    :       According to taste
Black/white pepper     :       ¼ tsp
Sugar   :       1 tsp
Oil     :       ½ tbsp
Butter  :       2 tbsp
Water   :       ¼ cup or as required
(For layers)
Lasagna sheets :       8
Cottage cheese :       125 Gms
Cheese, grated :       ½ cup
Procedure:
Heat sufficient water in a wide pan. Boil lasagna sheets along with salt. Remove from water and dip in cold water for 5 minutes. Remove and keep aside.
Cut cottage cheese into thin rectangle pieces. Keep aside.
For red sauce: Take a cooker, add water, put tomatoes, garlic cloves and allow it to blow two whistles. Remove tomatoes, remove the skin of tomatoes. Allow it to cool.
Take a grinder. Add boiled tomatoes, garlic cloves and grind it to a smooth paste. Keep aside.
Take oil in a pan. Add chopped onions, carom seeds and saute for 2 minutes.
Add salt, chilli flakes, tomato paste and cook till oil gets separated from it.
Add ketchup, sugar, oregano, basil leaves (fresh/dry) and mix well. Cook for 2 minutes add little water if required.
For white sauce: Take a pan. Add oil and butter. Add plain flour and stir it continuously so that no lumps should be formed.
Add milk slowly and keep on stirring to avoid lump formation.
Once it forms a smooth paste, add salt, white pepper, sugar, water and cook for 5 minutes.
Take a baking dish. Put a thin layer of red sauce. Then arrange cottage cheese pieces over it.
Than place 4 lasagna sheets over it and put a nice layer of white sauce. (half of the sauce)
Put 2 lasagna sheets and put red sauce, again cover it with the remaining 2 sheets.
Finally put the remaining white sauce, spread grated cheese nicely and cook in microwave for 5 minutes till the cheese melts properly.
Serve hot cheesy lasagna.
NOTE:
You can also put red sauce between each sheet and don't place the sheets totally one above another, just spread it to avoid overlapping.
Recipe Contributed By:
Pooja Ahuja
Indore
India
Time Taken: 45 minutes