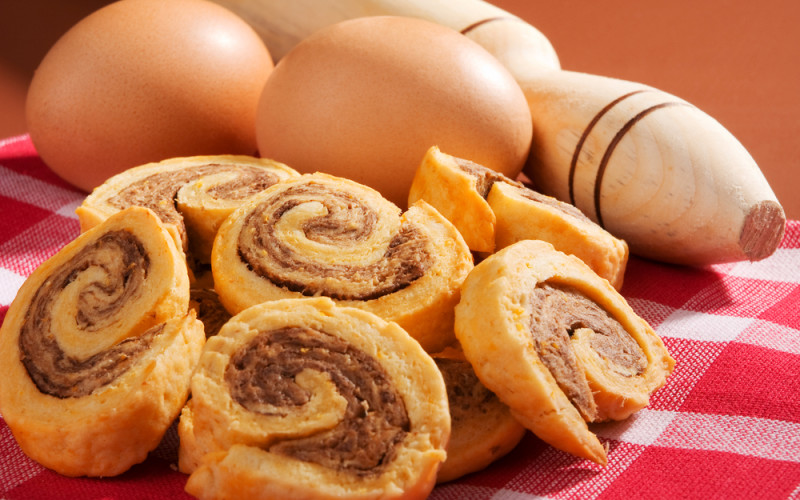 A fetching cookie with their swirls of light and dark flavored dough, Pinwheel cookies are probably the best thing that has happened to mankind after Chocochip cookies. Swirls of vanilla and chocolate gives this cookie it's distinctive flavor while its brilliant look makes it a perfect gift for your loved ones.
And although the Pinwheel cookie recipe needs you to chill the dough for a while, believe us, the final product will be well worth the wait.
So, here's to you a Christmas Special: Pinwheel cookie recipe
Pinwheels
Ingredients:
4 cups all-purpose flour
1 teaspoon baking powder
1/4 teaspoon baking soda
1 teaspoon salt
1 1/3 cups butter
1 cup packed brown sugar
2/3 cup white sugar
2 eggs, beaten
1 1/2 teaspoons vanilla extract
½ cup melted choco chip.
Method:
Sift the flour, baking powder, baking soda, and salt together into a bowl.
Mix all the wet ingredients together along with brown and white sugars. Divide into two portions. To one portion add melted chocochips and give it a blitz. To another, simply keep it vanilla.
Now, roll them to about 1/5th of an inch thick. Place vanilla sheet over chocolate and roll it up to a log. Refrigerate for atleast 8 hours. We do it over night.
Now, after it has been chilled well, cut in slices and bake at a preheated oven at 200 in a slightly greased baking sheet. Do not let the sides brown.